Discover more from Doktor Snake
Dubbed "the UK's answer to Anton Lavey". Enter at your peril. Bestselling author of Doktor Snake's Voodoo Spellbook, Human Sacrifice, Cannibals, and Get Money.
Over 1,000 subscribers
Special Offer: "Dokology Psybernetics Training" - Become A PSI Warrior!
Open your THIRD EYE - protect yourself from mind control and psychic attacks - enhance PSI abilities & personal power - manifest your desires - shape your own reality.
Special Offer:
Do you feel stuck and going nowhere? Not understanding why you feel lost and lacking vibrancy and inspiration? No surprise given the state of the world, the total weirdness and uncertainty, the nagging feeling everything is about to collapse or that we are a hair's breadth away from tyranny and total control.
We've seen DEW (Directed Energy Weapon) attacks, enough mind control and propaganda to fry your brain, a huge increase in UFO sightings and alien activity, spirit possession and gangstalking, EMF registering through the roof, excess deaths in nearly all nations…
The Covid psyops and vaxxes was the beginning (but it goes back far further that this). Now we're rolling into the endgame. And it's not pretty.
What can you do?
I might be biased… haha… Nevertheless I'm going to say you need my Dokology Psybernetics Training. The fact is, I needed it, which is why I developed it. It's all based on my own experiences in the psychic realm going back to when I was a boy. So I've been putting it all together since then. But when the Covid psyops hit I knew I had to ramp it all up - for my sake and yours. This stuff needs to get out.
OK, let's first look at the bonuses you'll get when you sign up.
RECEIVE my PSI Warrior Audio, 1 of an upcoming 12 audios that will open your Third Eye and unleash your psychic abilities. You get this FREE if you sign up today.

PLUS you'll also get my Heavy Duty Luck Booster & Protection Spell, which Dark Angel and I will cast for you at NO CHARGE if you sign up before the end of 2023… (This one normally costs $1,500.00 USD for my private members).
Now, let's look at what our
Dokology Psybernetics Training
is all about…
Learn the BIG SECRET of how to boost your psychic abilities to the max.

Discover the art of the Reality Construction to manifest what you need or desire in life.

Deep dive into Conscious Awareness which will put you at the helm of your mind/body/psyche ship, sailing it according to YOUR compass direction and nobody else's.

Learn how to set up a Psychic Shield to keep your subtle body safe, protecting you from malign attachments (entities) and deflecting negative energies.

Master the art of Remote Viewing, gain a picture of what's going on in other locations, including off-world locations, along with getting vivid impressions of what other people are up to.

Discover the true essence of Telepathy, how to read people and situations with flash insights.

Unlock the deep secrets of Astral Projection and Bilocation, leaving your body to traverse other realms.

And much more…
Sessions are conducted by Doktor Snake and Dark Angel via private messenger Telegram - audio calls to reach you wherever you are for hardcore learning.
Year-long program (12 sessions) available at $2,400 USD, six-month plan (6 sessions) at $1,600 USD, three-month program (3 sessions) at $800 USD, and one-time session at $300 USD.

Payment plans available upon request, with assistance provided via email.

Upon ordering, a questionnaire will be sent so you can outline any specifics you wish to focus on. From there a schedule will be set up for Dokology session(s).
Dokology: One year (12 sessions).
Cost: $2,400 USD.
Dokology: Six months (6 sessions).
Cost: $1,600 USD.
Dokology: Three months (3 sessions).
Cost: $800 USD.
Dokology: One-time session.
Cost: $300 USD.
---
---
If you want to have a chat about this stuff, hit the link below to send an email.
https://doktorsnake.com/contact-doktor-snake/
---
Doktor Snake
Dubbed "the UK's answer to Anton Lavey". Bestselling author of Doktor Snake's Voodoo Spellbook, Human Sacrifice, Cannibals, and Get Money. Seller of over 20,000 certified magical products since 1999. Globally acknowledged authority on the occult and psychic phenomena.
Dark Angel
A highly talented psychic medium, who has brought peace to many clients by channeling their departed loved ones. Dawn, from Virginia, said: "Dark Angel put my mind at ease, she was able to bring my grandfather through… I know it was true because she could not have known the things that were said."
Dark Angel is also highly qualified in Cognitive Behavioral Therapy, mindfulness, and life coaching (see her certificates below).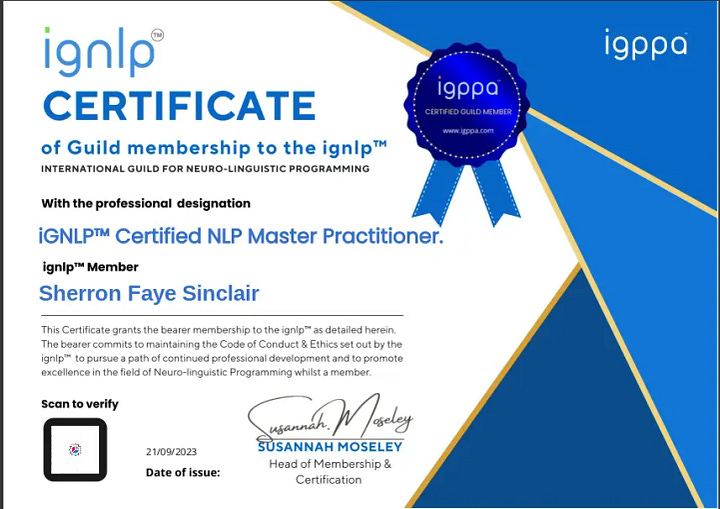 Doktor Snake talking about "situational awareness" - the precursor to developing your PSI abilities…
Thanks for reading Doktor Snake! Subscribe for free to receive new posts and support my work.